Celin's Story
A leaky roof repaired thanks to your support pouring in.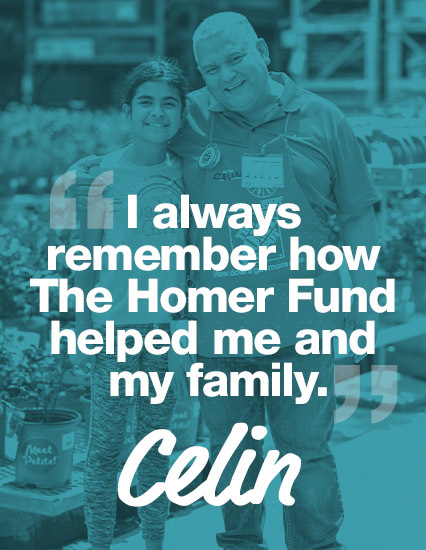 As a member of The Home Depot team for 16 years, Celin has assisted hundreds of customers with home repairs and improvements. But when a windstorm blew through and damaged his roof, Celin was suddenly in a position of needing home repairs of his own.
Unfortunately, his homeowner's insurance didn't cover the costs. Celin talked to his store manager and put in an application for assistance from The Homer Fund. It was approved, and, thanks to generous donations from fellow associates, The Homer Fund was able to help repair his roof to keep the rain and weather outside, allowing his family to enjoy the comforts of home without worrying about leaks.
As Celin told us, that's the power of The Homer Fund. Of giving what you can, when you can. He has contributed to the Fund for as long as can remember, and he encourages his department to do the same. After all, it was there to cover him and his family when they needed it most.
---
Deshun's Story
Your compassion ensured COVID-19 couldn't keep her family down.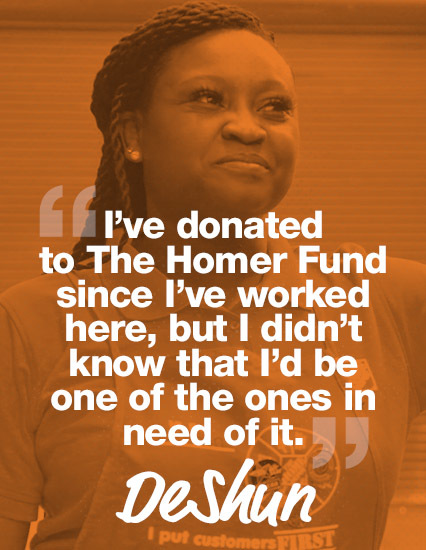 In early 2020, the global pandemic began affecting families in our communities nationwide. Deshun's family was no exception. Her husband, a barber for 15 years, lost his job due to the state's stay at home orders. Instantly, half the household income was gone – an income that supports Deshun, her husband and three college-age children.
Store management had been checking in weekly with associates on the pandemic's impact. That's when Deshun heard about a pandemic-specific grant she may qualify for. She applied and was approved in a short time. The assistance she received helped fill the financial gaps, providing for daily needs, covering several major bills and helping her family stay on track.
Now, Deshun's husband is back at work, and things are moving in a positive direction. As a Home Depot associate for 22 years, Deshun has always given to The Homer Fund. And, although the pandemic made her an unexpected recipient, she's grateful it was there for her and her family.
---
Jacqueline's Story
Your giving helped keep her truck in gear.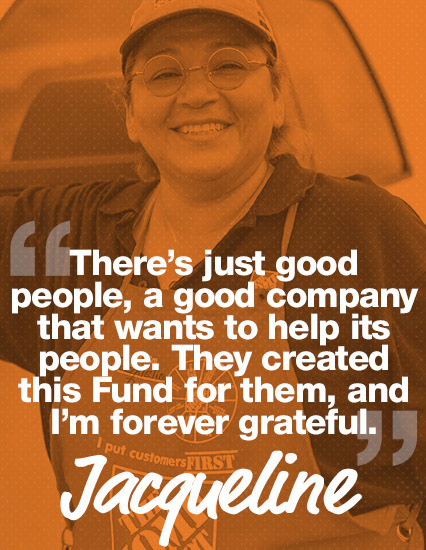 You know there's a special bond between a person and their vehicle when that vehicle gets a name. For Jacqueline, it's her truck Sheba – her trusty transportation to and from work. One day, Jacqueline noticed the check engine light come on. And it kept coming on. So, she took Sheba in for inspection and found out that the transmission needed costly repairs, taking Sheba completely out of commission.
Jacqueline had just completed home repairs due to a pipe burst during a recent freeze, so available money was tight. She talked to her store manager and learned that there was Homer Fund assistance available for major car repairs for damage that leaves the vehicle undriveable, such as a faulty transmission. She applied and was approved. Thanks to your generosity, The Homer Fund was able to help her complete the repairs.
An associate for 16 years, Jacqueline is a regular contributor to The Homer Fund, and she's thankful it was there. Now, Sheba hits all the right gears, and Jacqueline can get to work without worry.
---
Caroline's Story
You had a hand in helping her son through a storm.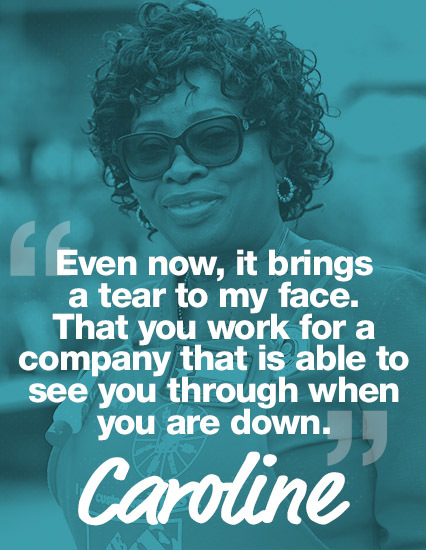 In August 2017, Hurricane Harvey hit Houston, Texas. As Caroline and her son were out assessing the neighborhood during a lull in the storm, a pain flared up in his side. A rain-drenched ambulance ride and an emergency surgery later, Caroline's son was on the road to recovery from a burst appendix. Outside, the hurricane raged on. So, Caroline and her son had to remain in the hospital for days until the storm was over.
When she finally got home, the bills began to arrive. Even after insurance coverage, they were substantial. Caroline told her store manager, and her fellow associates came together to provide assistance. Through the Matching Grant program, The Homer Fund matched $2 for every $1 collected by Caroline's fellow associates. Combined with funds from another outside charitable group, the medical bills for her son were paid in full.
Caroline has been an associate since 2012, and as she tells it, The Homer Fund is absolutely necessary. Together, we can be there for each other when the unexpected happens. Like a medical emergency. In the midst of a hurricane.